Cruising through the weekend, I keep looking for interesting and witty things to be, well - interesting and witty about. In truth I really don't need to look much farther than any one of the four in my brood - and in truth I generally don't look much farther than them.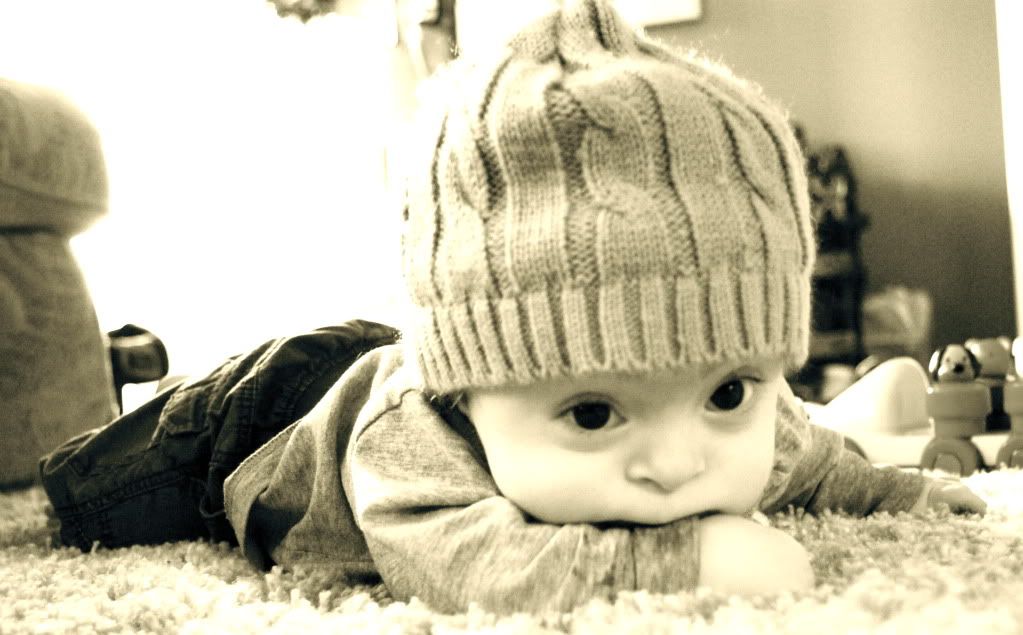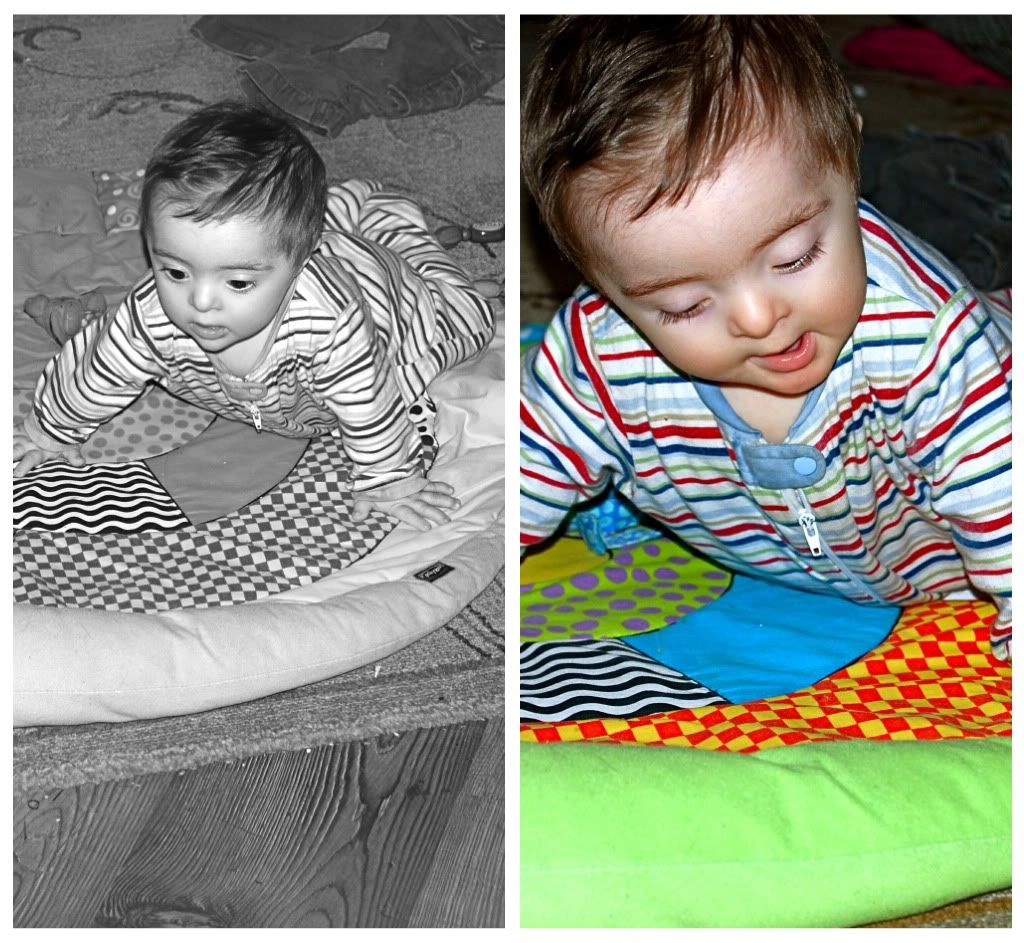 Amos's new trick - pushups!
But for the times I do want to look a little farther than the four sets of little feet in my house, and although I mean well (I mean, I mean to show that we do other things besides be in our little house surrounded by gray skies and rainy streets) - I mean well and bring my camera along with me on several outings - especially since I used to be a photographer of sorts - I bring it along, there it is in my bag at the doctor's office, peaking out again at infant massage class, and
oops
there it is in a public washroom -
no pictures there -
and it came along to our friends Molly and Zeke's house (and their delightful mama Angie, who has been mentioned
here
and
here
before - among many other things, Angie wins the cookie maker of the century award. not. even. kidding. But I digress...) And the camera was sitting right there when my beautiful friend Heidi, a fellow nurse, and her Avery with the face of a doll came to visit - Heidi and her uplifting conversation, her laughter and her honest acceptance just billows my sails - when I spend time with women like these I feel the same as when you throw your freshly washed sheets over your bed like sails unfurled. I need to feel that. We all need to feel that.
But I didn't take any pictures. I rarely take pictures anymore. And I wish I did.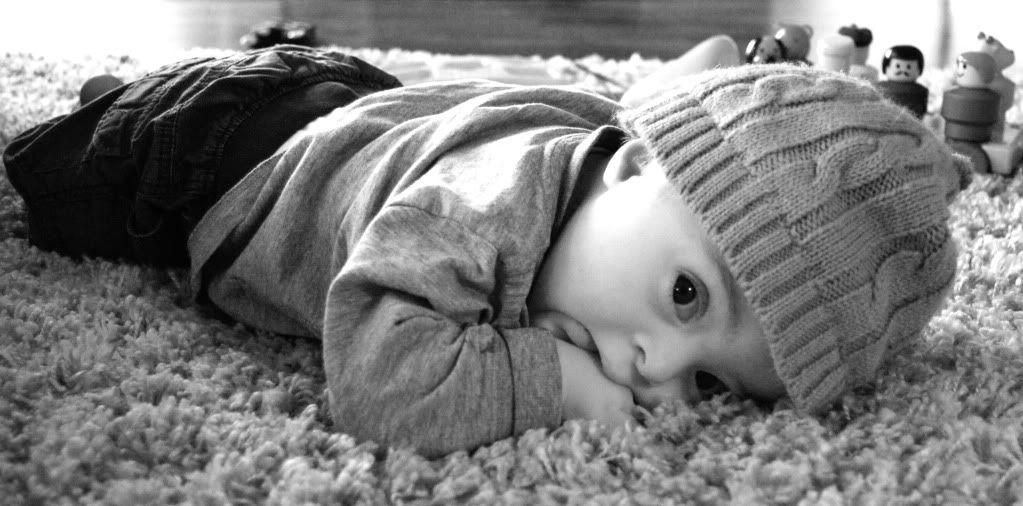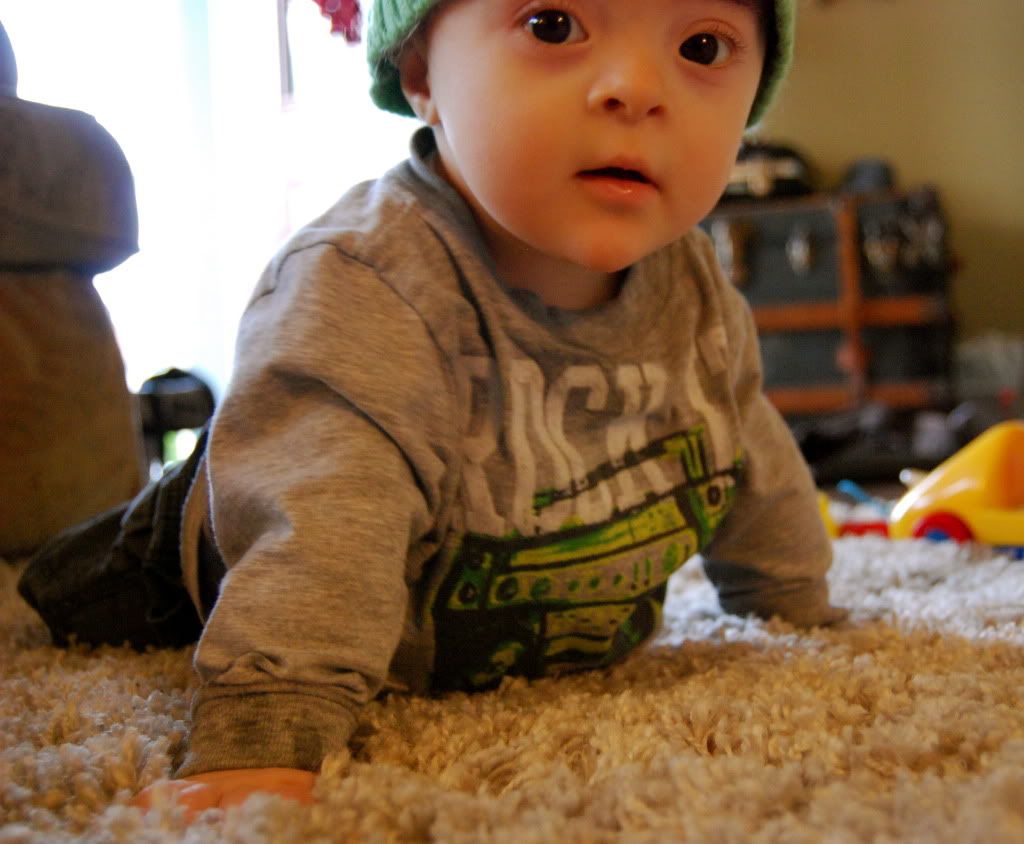 The camera even accompanied me to my gardening class where I actually had someone (gasp!) come in and watch the previously mentioned brood for me - The gardening class where I got lost on the way there, pulled into the parking lot and in my haste to get out of the car banged into my driver's side door that sometimes chooses to remain locked. Across the front seat I go, exit through the passenger door, full of all kinds of grace and perplexing to onlookers. I walked in a few minutes late, feeling awkward and disheveled
why am I the only one holding a bag?
and out of place. But the class went on, and we learned how to plant a beautiful spring planter full of perennials. Who watched the children? The effervescently lovely Kaiti... my girlfriend-in-law - or sister-un-law? Kaiti is my brother in law's girlfriend. My children love Kaiti. In truth, we all love Kaiti. My children adore Kaiti. She is lovely. All of the people and things in our lives are lovely - and I forget to show you nearly all of them. Do I have a picture of any of it to show you? No.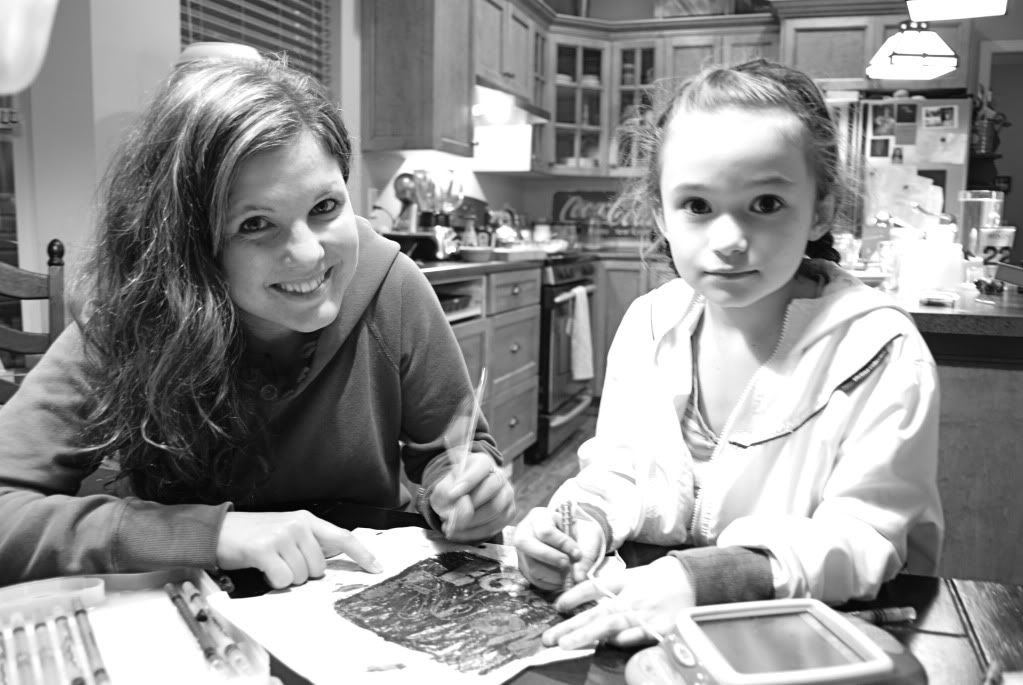 My camera comes along in my bag - and in my bag it stays.
Many, many times I bring it - especially on those rare and deliciously sponge-it-up-it's-just-that-good hot, bright and sunny sunny days - and then I forget about it, or I feel awkward about it, or I just don't do anything with it.
And I never used to be like that.
Of course, I didn't used to have four children. And back then I don't remember feeling so.darn.tired.
Maybe I need to learn a lesson from the little ones.
Jump anyway, even if you're tired.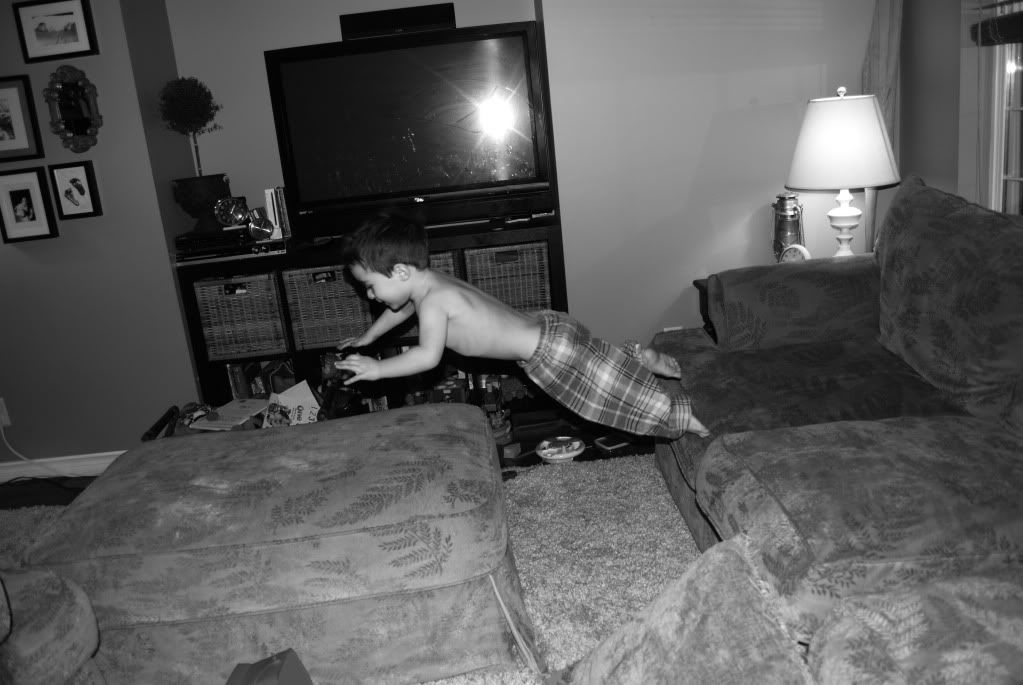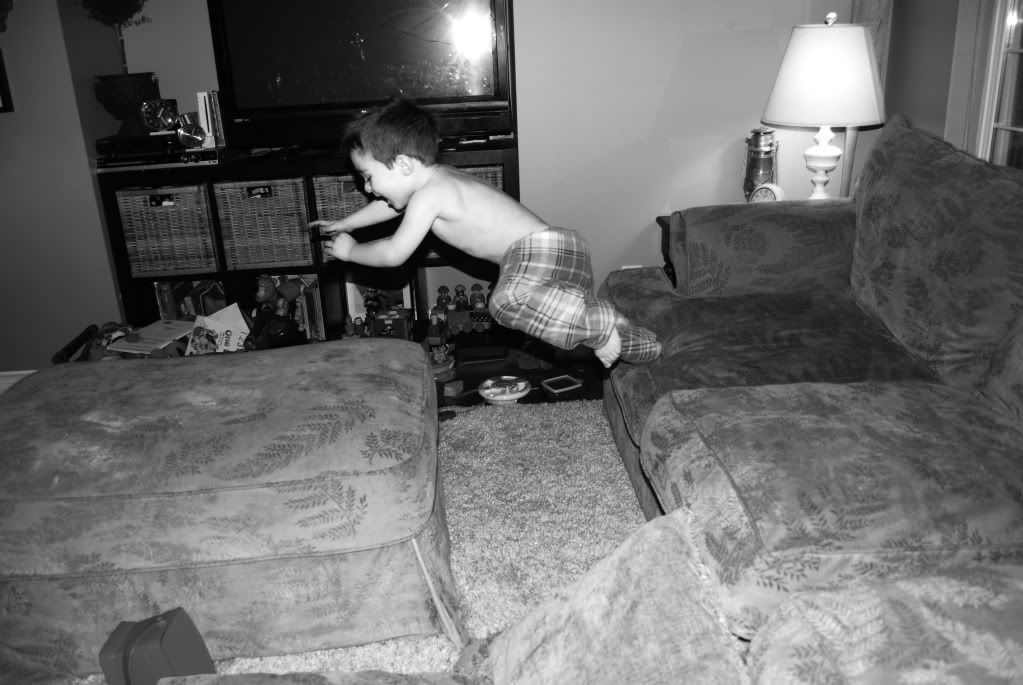 ---
Well, we thought we were pregnant this week. Well, for the past few weeks, actually. To get pretty darn personal pretty darn quick, I've never been this late before without being pregnant. To keep you from scrolling to the end, I'm not pregnant. (Yet.)
I had been told several times that you can buy pregnancy tests at the Dollar Store. Yes. The Dollar Store. Buck or Two? Dollarama? Bring it. Who doesn't love a deal? I snatched up a handful of those puppies, considering they were only $1.25 each. I was just excited that the purchase I made cost less than $25 with tax, which would have been about the price of a package of two tests at a regular store, and included several other items. I took the first test that afternoon. It was negative.
Over the course of the next day after day after day of lateness and a bagful of Dollar Store negatives later - I confessed it all to my sister over the phone - a few provinces apart, eyes full of laughter-inducing tears and a shared spirit that is more precious than anything. I love my sister.

Her: Laura, seriously, go get a real test from a real store.
Me: But Sarah, they're only a dollar twenty five. I don't think you understand how great of a deal that is.
Her: Laura, I don't think they're working.
Me: But Sarah, they're only a dollar twenty five. I don't think you understand how great of a deal that is.
Her: You should hear yourself.
(stifled laughter)
. Go get a real flippin' test.
(we collapsed in laughter. Seriously. I couldn't breathe for a minute.)

I can still hear her gasping on the other end of the line; her words choking out between laughing and breathing into the phone as she clutches herself and can't believe the conversation we're having. Seriously? I love my sister.


Well, $10.76 later for a Clearblue Easy and yet another negative result, a trip to our lovely new family doctor was in order. Now I am off for a barrage of other tests, it looking most likely to be my thyroid. I'm guessing it's a bit hypoactive, but we shall see. Joel and I surprised ourselves at both feeling disappointed with the negative result. My sweet sister told me
isn't it cool how God lets you see those little glimpses of what you really feel?
Instead of
holy crap, we're going to have five children.
Thank you for that reminder, Sarah. We love you.
At least I remembered to bring my camera and actually take some pictures when I decided to take a walk with my four after dinner yesterday evening.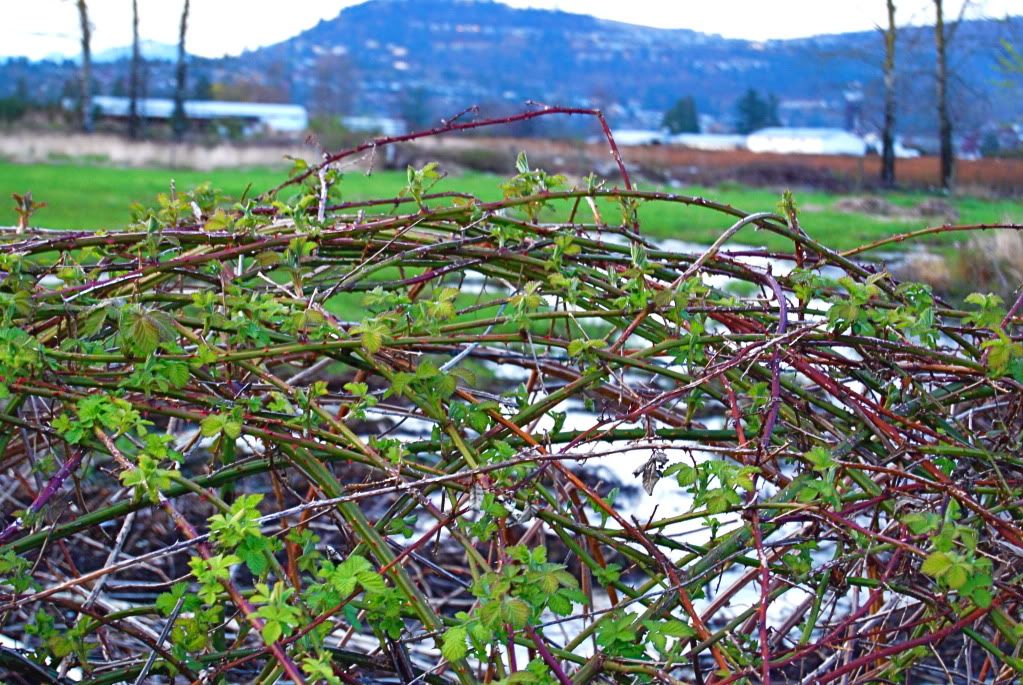 We ventured only about a block away from our house, the wee one strapped to my chest where I could hear his sweet tiny breaths and squirms that recalled to me a time not so long ago that he was on the inside of my body doing those same things. Precious babes.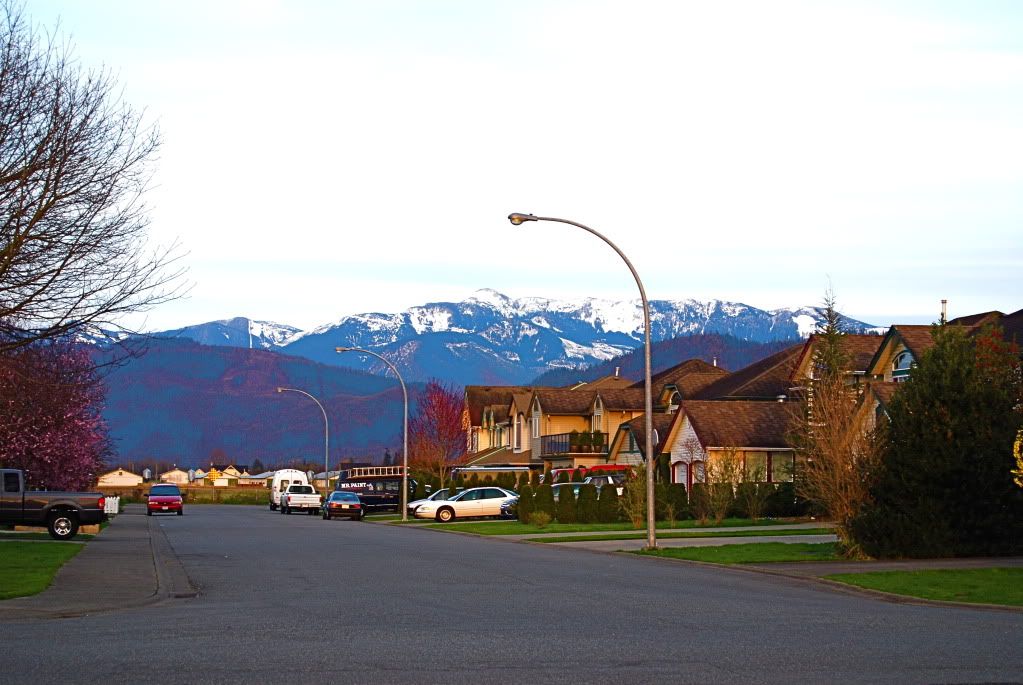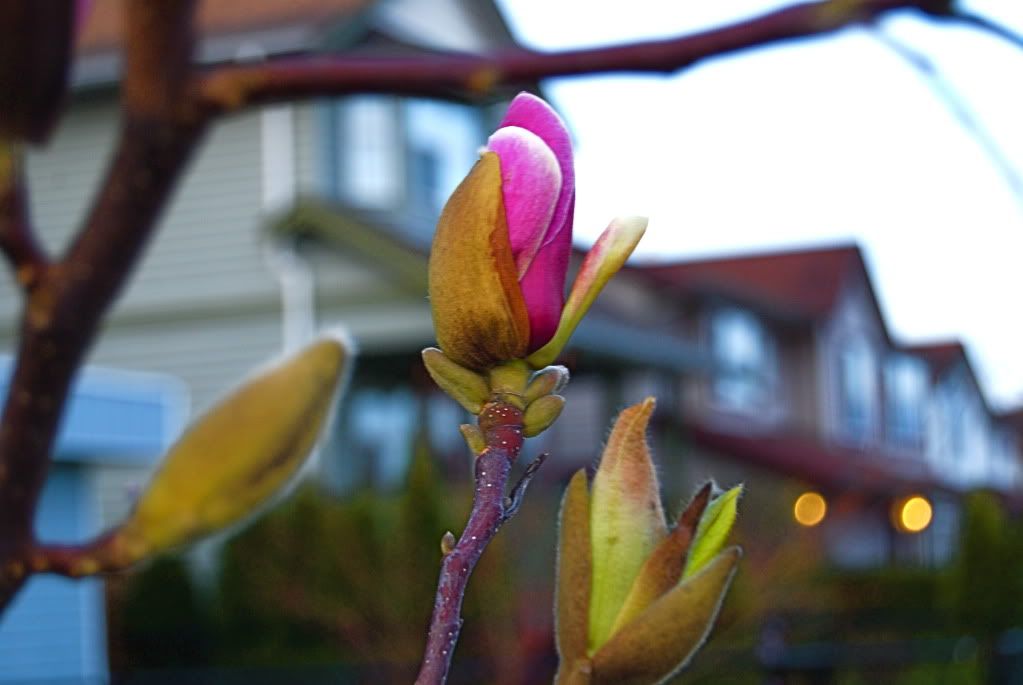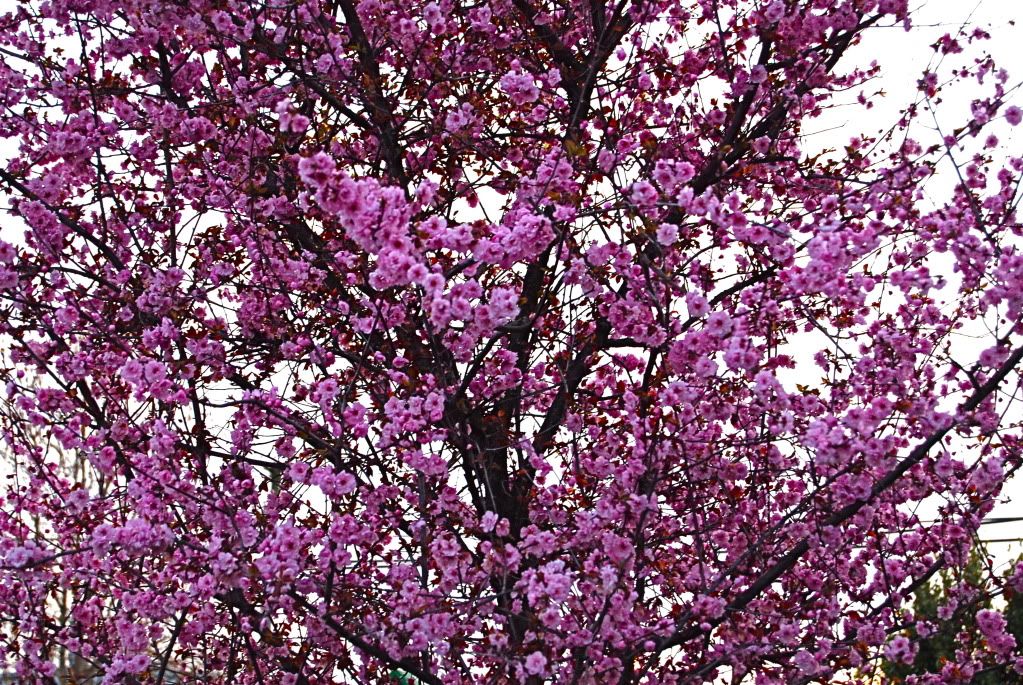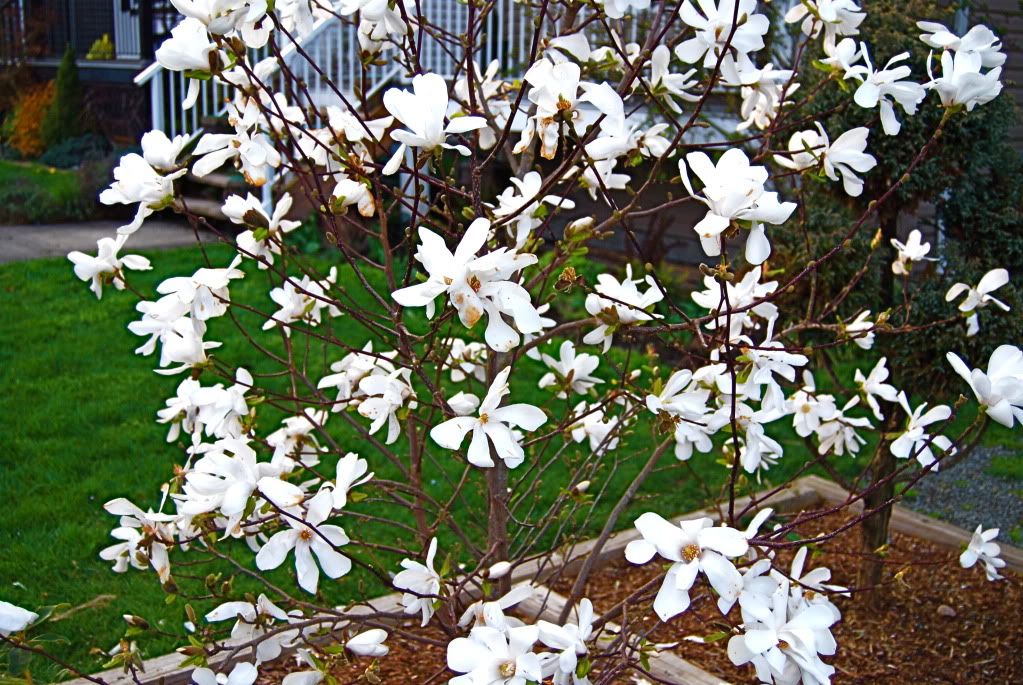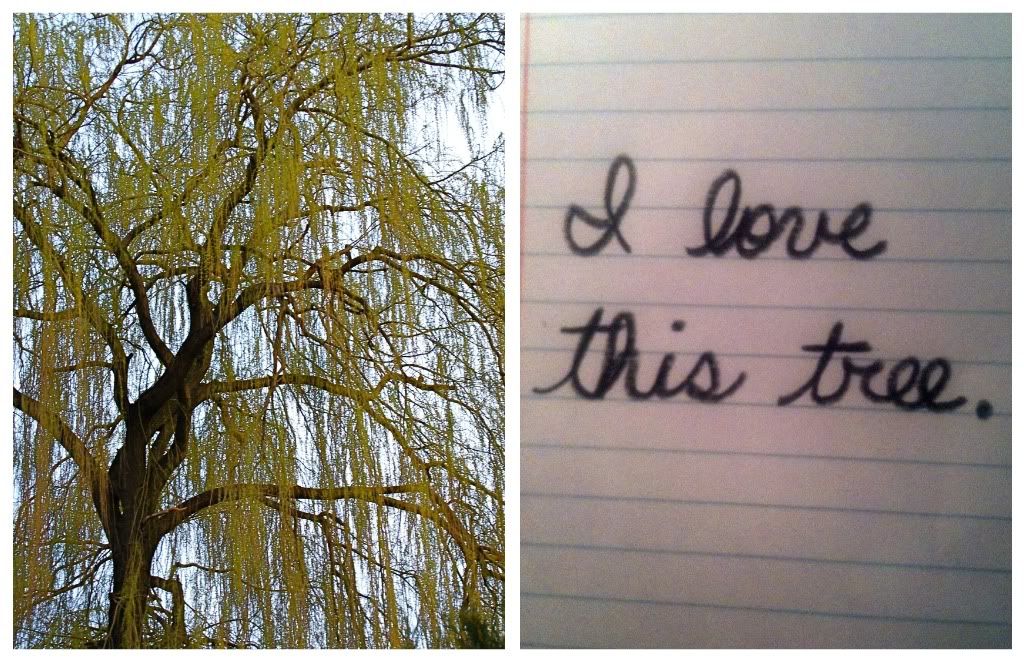 Bathtime.
Having a warm bath. It's a beautiful thing.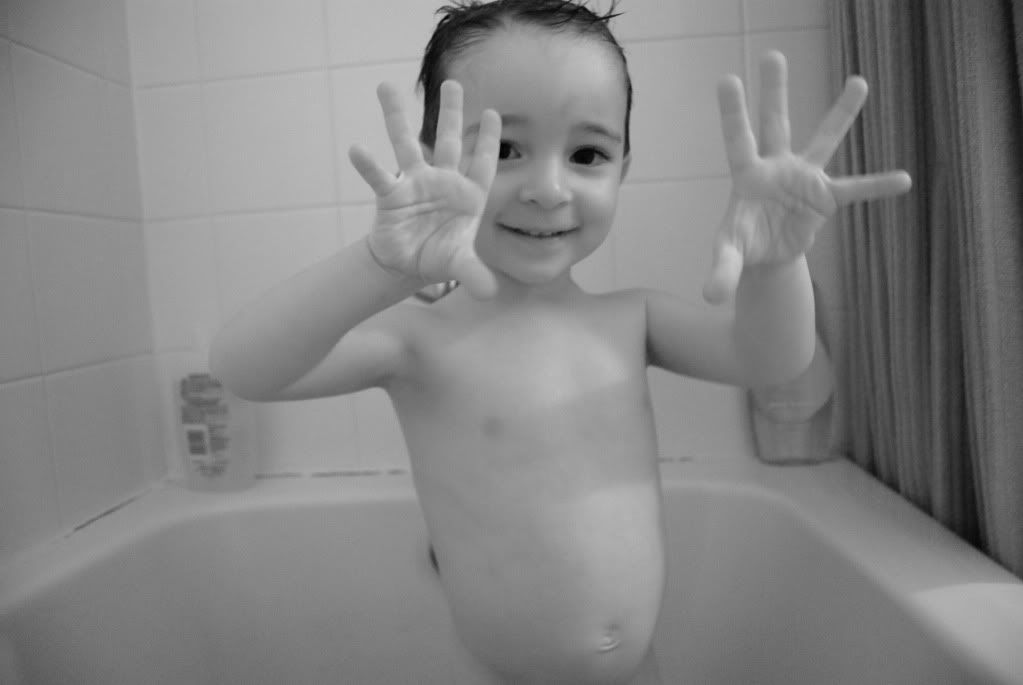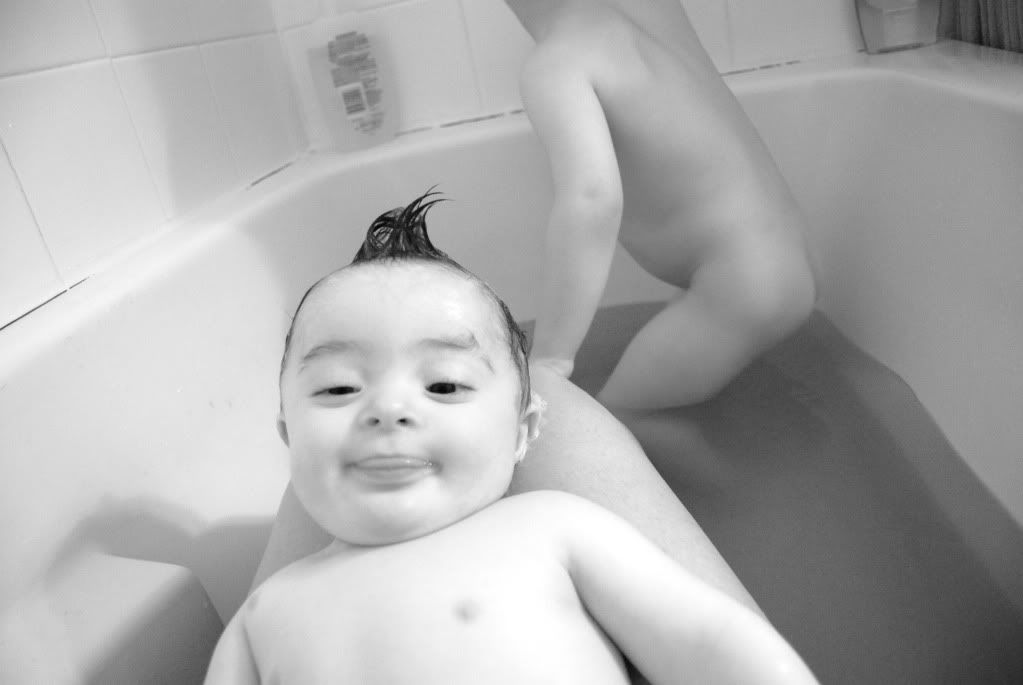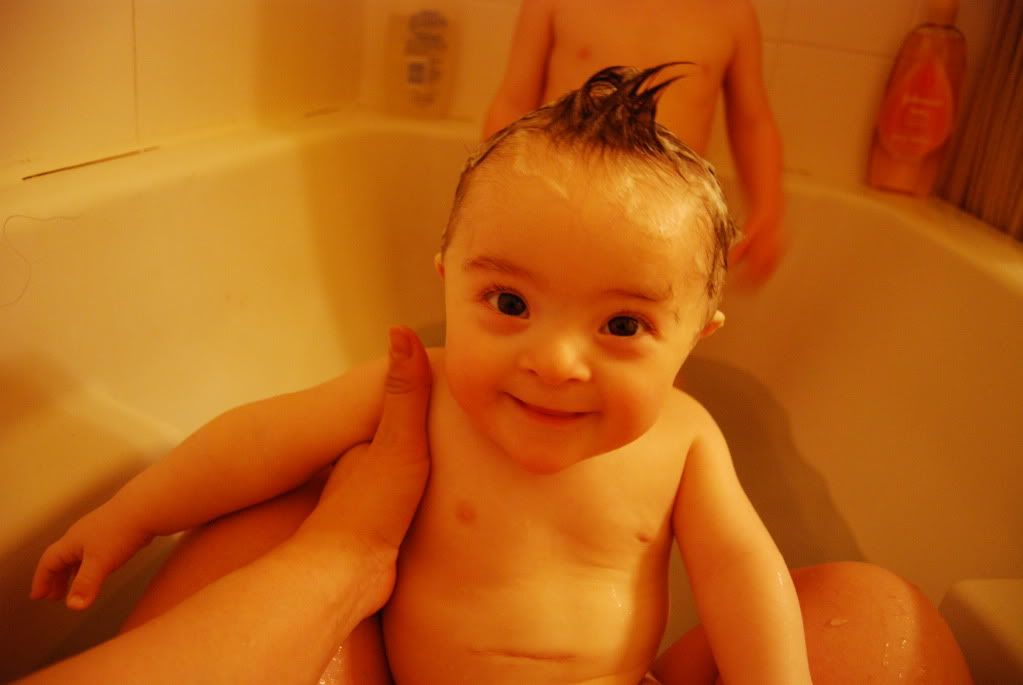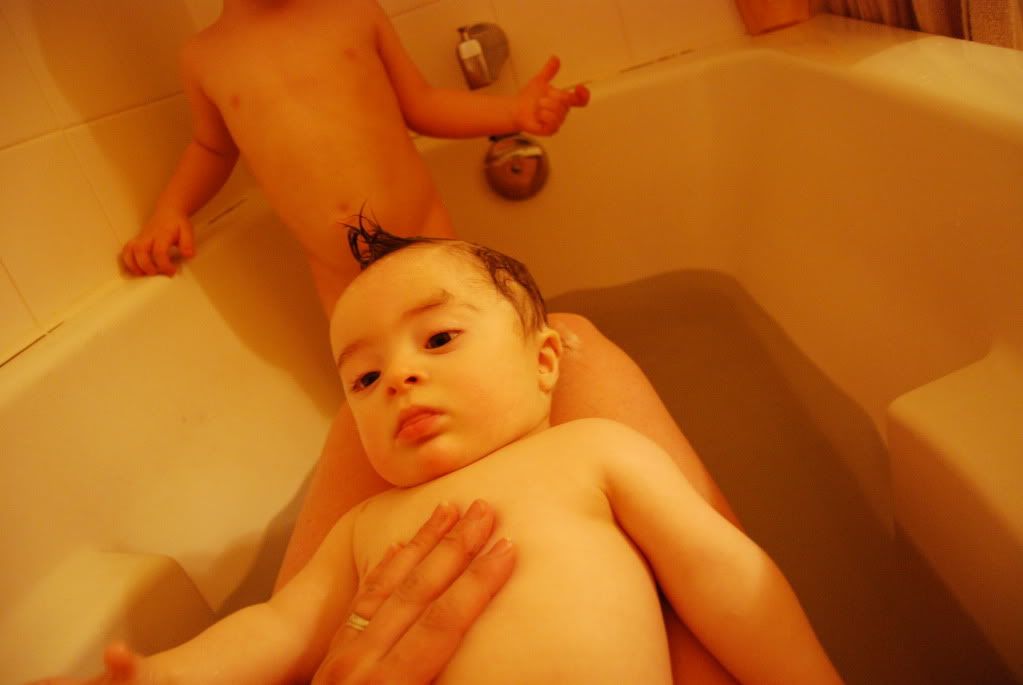 My incredibly helpful and very willing baby bathtime helper. She is wonderful.
Pajamas. Bedtime. Wanna 'Nuggle.
The days end up passing by so quickly, especially when we're busy with classes and school and schedules and appointments - that all of a sudden I realize it's April already and my baby is turning one next month. Turning one. Already.
And for that I am excited,
and for that I am sad.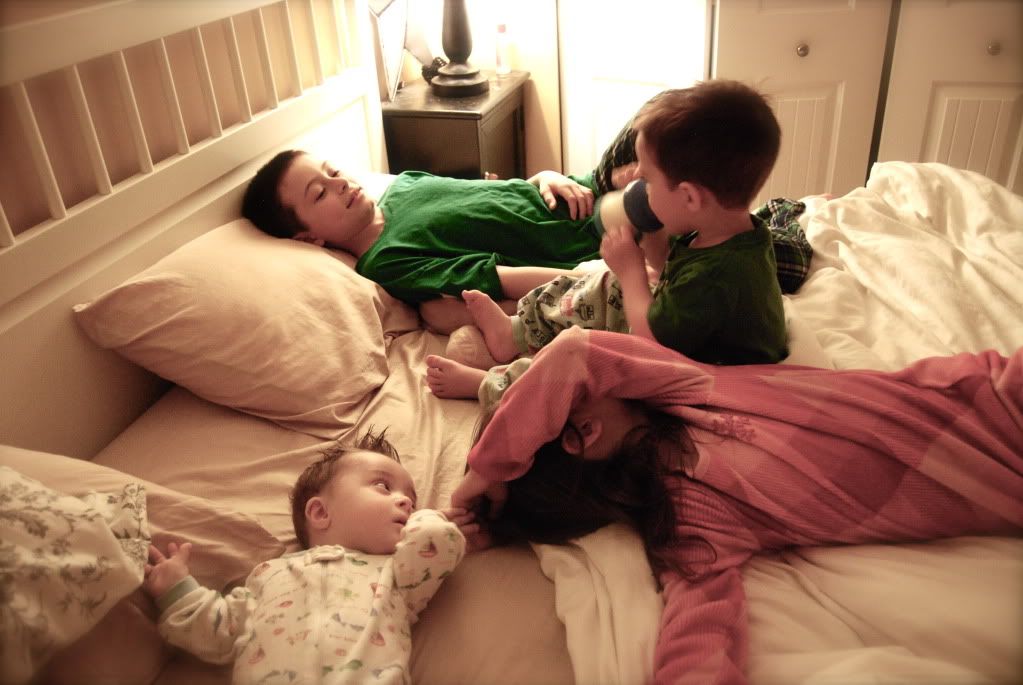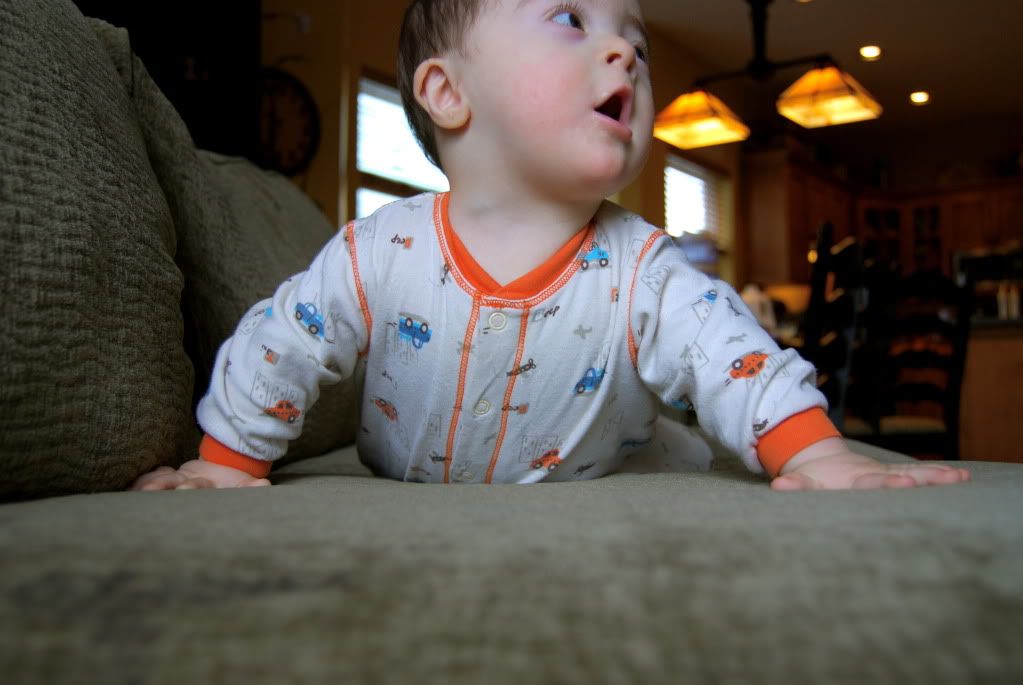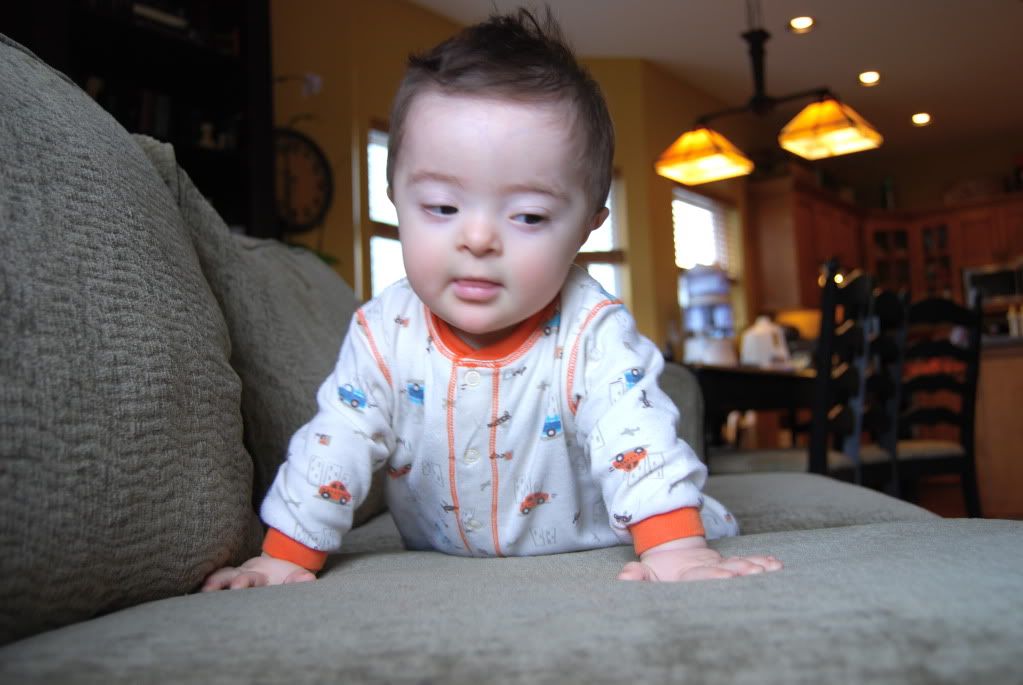 There's the trick again - little muffin. Now he's loving showing off.
It's cliche, but they grow so fast.
So maybe for now it's okay that I only take pictures of them. Because in twenty years, will I care that I had a picture of the spring planter? Or will I pour over the captured images of my precious babes' faces? Their sweet tiny hands that will only be as small as they are today - tomorrow they won't even be the same. Those will be the pictures I want to see. Their little feet, their little smiles, their new tricks, their new abilities and accomplishments.
Back to the Spring Planter.
And ah, the spring planter, anyway, a lovely spring planter that I paid far too much money for that made me feel sick about on the way home and fell over in my car and dumped dirt and plants and fertilizer all over and when I pulled over on the highway to pick it up because dangit I just paid a lot of money for that thing and every scrap of that soil cost me - I pulled over to fix it up, put it upright and... and dangit I can't get out my driver's side door and with that bang against the door before I realized it wouldn't open the tears burst out of me. Tears and prayers and Lord please tell me, show me that I haven't made a terrible mistake in wanting or needing to take a small amount of time for myself... I love my children, I really love time with my children - but I am really tired today, this week. God, please show me that this ridiculous amount of money I just spent on this #$%$# blasted planter was not spent in vain...
And I arrived home after our visit with Angie and Molly and Zeke to a surprise $659 cheque in the mail. Thank you, Jesus. Thank you. That was the first thing out of my mouth.
I paid nowhere near that for the spring planter, fyi. Just sayin'.
Still.
Lesson learned. It was okay for me to take some time for myself. For that I am thankful.
And I have a pretty planter full of plants on my front porch that should last for years to come.
So, how's about another giveaway?
I am in love with clocks. I love watches, clocks, old and new.
I have quite a few vintage clocks kicking around my house.
In keeping with the thought of being aware of the passage of time and the preciousness of children and savoring the time with them, today, and following the lead of a very sweet little girl who is learning that its good to give - I would like to give one away.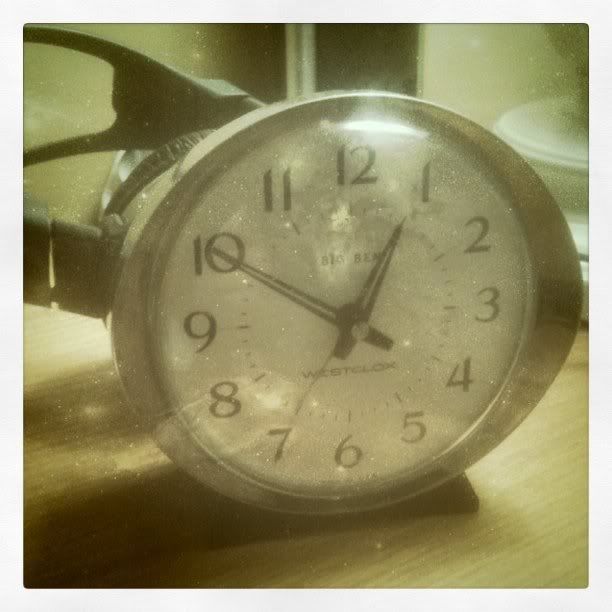 To one random commenter on this post, I will send a vintage Big Ben alarm clock. I have three lovely warm brown ones. One of those can be yours. Tell me how you make good use of precious and savory time. As for us? Daddy is home tonight. We got to squeeze in some 'nuggle time, and as of 8:30 this evening, all little ones and their little feet were in bed, asleepin'. Our house is so.very.quiet. So quiet I can hear clocks ticking.
Enjoy the time you have. Soak something up with your own little feet. Share with me what that somethin' is, and maybe you'll win yourself a sweet little vintage clock.
Thank you, and goodnight.
P.S. When this post was first published, I was completely unable to upload photos, hence the name. I think I have it figured out - on my own, but I will still make homemade pie for people if they really REALLY want me to. Mmm. Pie.